System Administrator Program©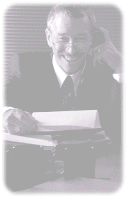 Specifically designed for companies without an in-house System Administrator, we can take care of all your computer needs.
At your office on a regularly scheduled basis, we will perform routine maintenance and optimization on your systems, adjust your user settings as needed, install or maintain your software, take care of the computer needs of your users, and any other services you may require. Regularly scheduled tasks can include making certain tape backups have run successfully, updating virus definition files, and making sure workstations and servers have sufficient hard disk space and memory. Your company does not require a dedicated support person on staff, and your professionals are allowed to do the work they are trained for.